Last updated: June 02, 2020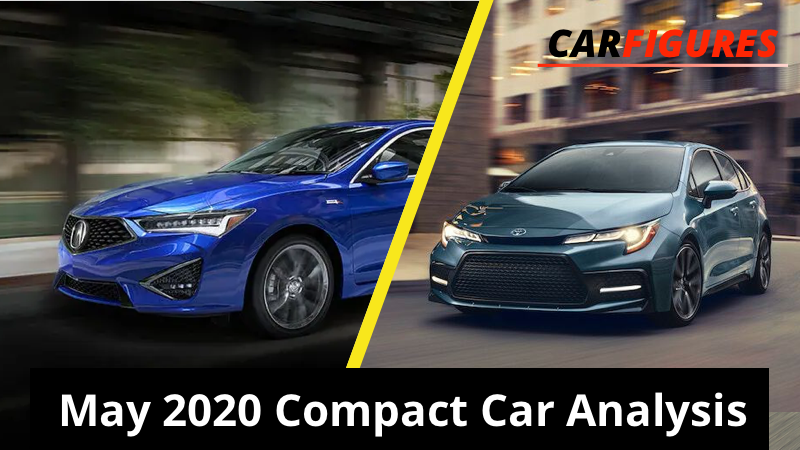 In this month's analysis, we see an overall decline for the whole segment with no one achieving better sales compared to last year. The Honda Civic takes the top spot in the compact car segment with 27,244 vehicles sold in May. Second up we see the Toyota Corolla with 16,063 vehicles sold. The Honda Civic beats out the Corolla by over 11k vehicles.
In the premium compact car segment, we see the Acura ILX take first place. Honda Motors leads as the market leader in this segment. The Lexus IS sold comparable numbers to the Acura ILX with the Lexus IS selling 982 vehicles compared to 1,039 Acura ILX -- only a 57 vehicle difference. The Genesis G70 is a relatively new entrant to the segment relative to its competitors, but it is closely catching up with 870 units sold.
If we look at the performance for the year 2020, we see the Honda Civic beating all it competitors with 104,598 vehicles sold. Again in second place in terms of sales we see the Toyota Corolla pushing out 94,522 units in 2020.
We see that the Mazda 3 with the steepest decline YoY with an almost 50% decline compared to the same timeframe from Jan-May in 2019.
The Lexus IS and Acura ILX pretty much sell at the same rate with the Lexus IS inching out the Acura ILX this year so far with 104,598 compared to 94,522 vehicles from Acura for a difference of 522 units. The Genesis G70 lags behind the market leaders in the premium compact cars segment, but not that much with 3,495 vehicles sold YTD in 2020.
Current Month Table
Year To Date Table
*This analysis excludes vehicles that do not report monthly sales numbers.