Last updated: June 02, 2020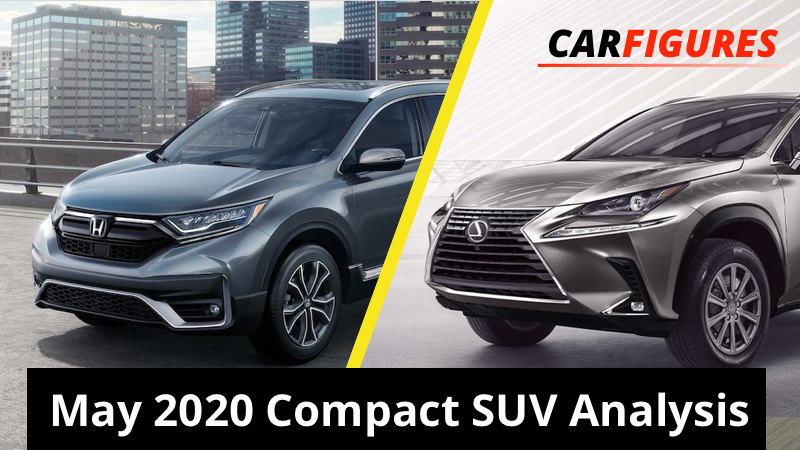 In the compact crossover/SUV segment, we see that the Toyota RAV4 is this month's best seller. Toyota sold 36,428 RAV-4. In second place, Honda sold 29,023 Honda CR-V. Subaru selling 17,859 Forester. Hyundai sold 15,552 Tucson with only a drop of less than a percentage when we compare how many Tucson's they sold in May 2020 vs May 2019. In May 2019, Hyundai only sold 64 more units compared to May 2020. Mazda sold 12,140 CX-5, Subaru also sold 9,486 CrossTrek, Kia sold 7,576 Kia Sportage's.
In the premium compact SUV department, we analyze the Lexus NX vs Acura RDX. The Lexus NX outsold the Acura RDX by 280 vehicles with 4,707 sold by Lexus and 4,427 sold by Acura. The RDX witnessed a steep declined in sales compared to the month of May in 2019 with a decline of 18%. The Lexus NX actually saw a bump in sales comparing May 2020 to May 2019 with a modest increase of 2% sales or 95 more vehicles sold.
The market leaders in this segment YTD is the Toyota RAV4 with 149,267 units sold. In second, Honda sold 112,410 CR-V year-to-date. Subaru has sold 66,370 Forester this year. In comparison to the RAV4, Toyota sells in a ratio of over 2:1 RAV4 to every Forester sold. In the premium department for this year, the Lexus NX beats out the Acura RDX with 18,083 units sold this year compared to Acura with 17,340 units sold. Each Lexus and Acura witnessed a steep decline in sales compared to the same time period as last year down by over 20%.
The Kia Niro has not been selling well this year with only 7,067 vehicles sold this year. That averages out to around 1,400 sold each month in the year 2020.
Current Month Table
Year To Date Table
*This analysis excludes vehicles that do not report monthly sales numbers.