Last updated: June 02, 2020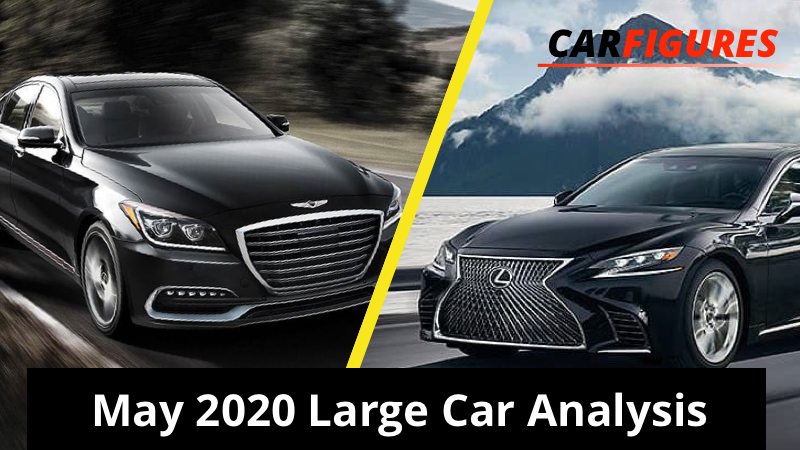 For May 2020, we see a steep decline for this segment across the board. We have written about the decline of the car segment in general compared to SUVs as American consumers' tastes have changed. You can learn more about our analysis here.
This large car segment has seen low numbers in May 2019, but for May 2020, those numbers are even lower. Every vehicle in this segment sells less than 1000 units every month with the Toyota Avalon as the exception. The Toyota Avalon sold 1,237 units in May 2020 and we predict this number will be even lower in May 2021 given the current trend. The Genesis brand has made big strides in general as a relative newcomer to the premium market and as a car brand. They outsold the Lexus LS with 319 units compared to Lexus selling 224 units. The Toyota Avalon, Genesis G80, and Lexus LS all see over 50% decline in sales when comparing May 2020 to May 2019. The Genesis G90 holds its position in sales relative to last year with 161 sold in May 2020 compared to 158 sold in May 2019 for a difference of only 3 units. Impressive.
For this year, the Toyota Avalon is the clear leader. For the premium large car segment, we see the Genesis G80 outselling the established Lexus LS by over 500 units (1,677 units vs. 1,148)! Even the Genesis G90 is close to catching up to the Lexus LS with only around 200 units differential. The Genesis G90 is the only vehicle in the segment with an increase in sales compared to the same timeframe last year.
Our conclusion here is that Lexus has a real competitor in this segment and will have to focus and make some strides in order to ward off Genesis and the Toyota Avalon remains the top seller in this segment.
Current Month Table
Year To Date Table
*This analysis excludes vehicles that do not report monthly sales numbers.