Last updated: June 02, 2020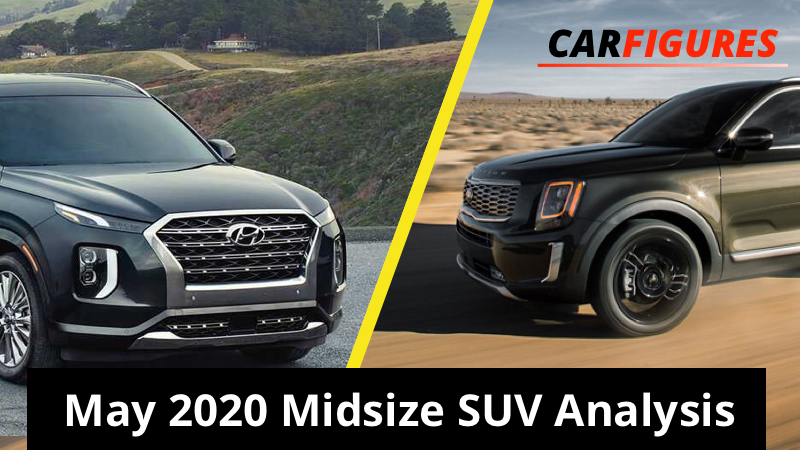 In the midsize crossover/SUV segment, this segment sold 83,308 vehicles in total with a 15% drop in sales compared to May 2019.
The Honda Pilot leads this class in May with 12,227 vehicles sold with numbers comparable to last year with only a 2% in sales. Next up is the Toyota 4Runner followed by the Toyota Highlander. The 4Runner sold 11,422 vehicles and actually outsold themselves compared to last year. The Highlander on the other hand presents a different story, an almost 50% drop in sales--from 21,548 vehicles to 10,962 vehicles.
Hyundai Santa Fe (9,549 sold this month, 35,809 sold this year). Hyundai Palisade (7,866 sold, 27,530 sold this year). Kia Sorento (7,262, 29,603 sold this year). Subaru Ascent (5,740 sold, 25,318 sold this year). Kia Telluride (2,599 sold, 22,512 sold this year). Mazda CX-9 (2,421 sold, 10,724 sold this year).
In the premium department, the Lexus RX continues to hold the top spot with 7,262 vehicles sold this month and 30,472 units sold this year. The Acura MDX sells about 1 MDX for every 2 Lexus RX sold. In this segment, there were a total of 361,735 vehicles sold this year compared to 424,058 vehicles sold last year given the same time frame.
Current Month Table
Year To Date Table
*This analysis excludes vehicles that do not report monthly sales numbers.