Last updated: June 02, 2020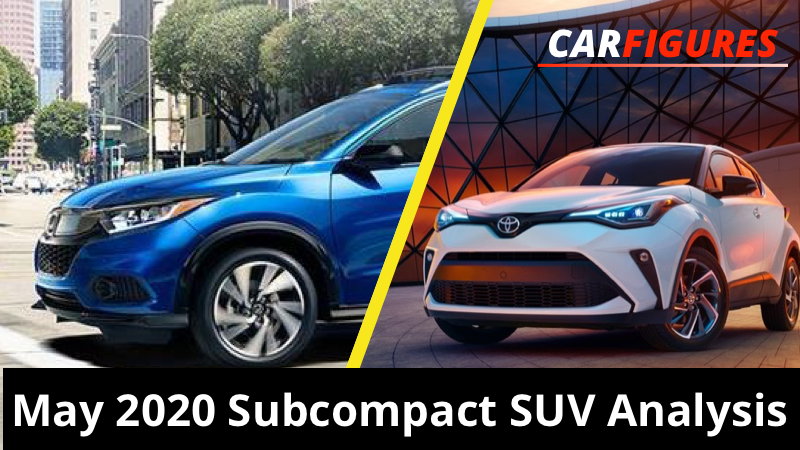 For this month, we see the Honda HR-V capture the top spot with 7,063 vehicles sold. As opposed to the other segments, there is a competitive landscape between brands as no one brand dominates in market share as it is well spread out between Honda, Hyundai, Kia, and Toyota. The Toyota C-HR which usually hovers around first or second place is actually being challenged by the Hyundai Kona and Kia Soul. With only 16,964 vehicles sold this year and 4,503, it looks like the Toyota C-HR has lackluster sales performance.
The Hyundai Kona sold around the same amount of vehicles as the Kia Soul this month with 6,536 to 6,324 units sold respectively. For this year, the Kia Soul outsells the Hyundai Kona by about 2,000 vehicles with Kia selling 26,602 vehicles this year as opposed to Hyundai Kona selling 24,824 vehicles this year.
Some other highlights include:
Hyundai Venue selling 1,650 in May 2020 and 5,715 this year. Lexus UX selling 1,296 in May 2020 and 5,633 this year. Mazda CX-3 selling 842 in May 2020 and 3,757 this year.
In total, this segment sold 28,214 vehicles this month and 1112,878 this year. Given the same time period last year, the subcompact crossover SUV segment sold 33,077 vehicles in May 2019 and 149,180 respectively. This segment is down about 15 percent from last year looking at only this month and about 25% looking at the whole year's sales performance.
Current Month Table
Year To Date Table
*This analysis excludes vehicles that do not report monthly sales numbers.