Last updated: March 30, 2020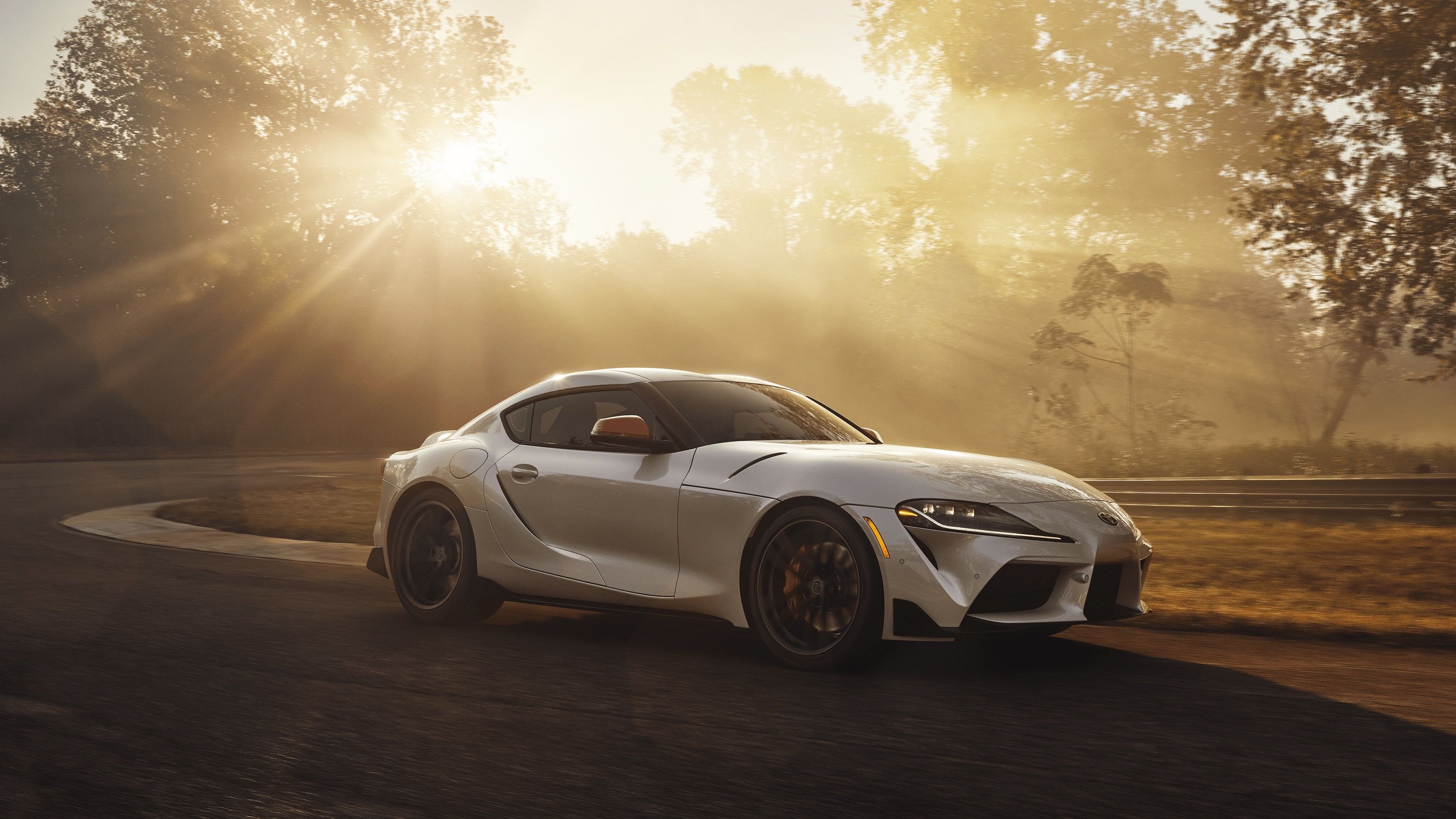 2020 Toyota Supra GR
In today's analysis, I wanted to see how well the new Supra sold. In order to do that, we need a few vehicles to benchmark it's sales off in order to establish a baseline.
To establish comparison figures, I will be comparing the Toyota Supra sales to the Toyota 86 and Subaru BRZ. Now, this may not be the fairest comparison since these vehicles sell at different MSRPs, but in order to get a rough baseline, I think it's a worthy mental exercise to compare these vehicles. As we remember the Toyota 86/Scion FR-S and Subaru BRZ was a joint venture between Toyota and Subaru. As a bonus, we will also compare the Toyota 86 to the BRZ since they essentially are the same vehicle, but just under different brand names.
To begin let's take a look at the sales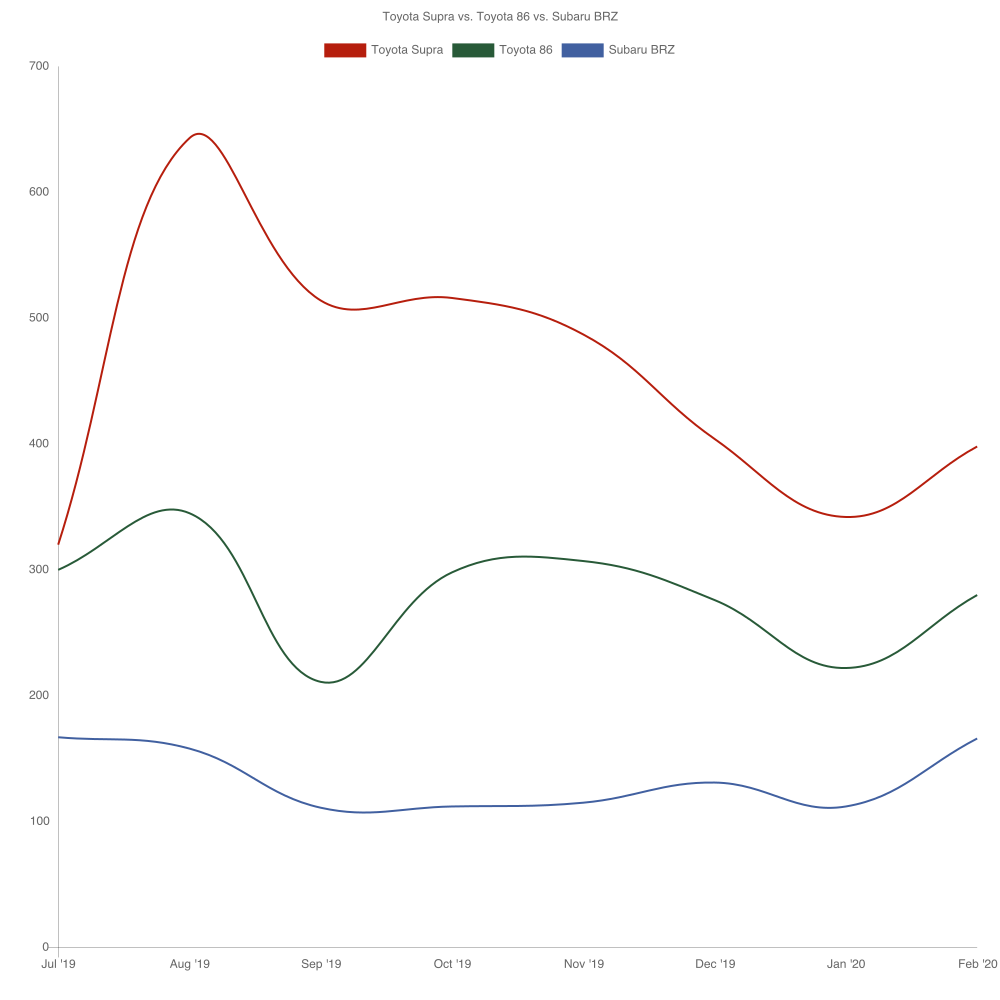 Toyota Supra vs. Subaru BRZ vs. Toyota 86 Sales Chart
| | Toyota Supra | Toyota 86 | Subaru BRZ |
| --- | --- | --- | --- |
| May 2012 | - | 86 | 271 |
| Jun 2012 | - | 2,684 | 818 |
| Jul 2012 | - | 1,649 | 498 |
| ... | ... | ... | ... |
| Jul 2019 | 320 | 300 | 167 |
| Aug 2019 | 643 | 345 | 158 |
| Sep 2019 | 514 | 211 | 111 |
| Oct 2019 | 516 | 298 | 112 |
| Nov 2019 | 487 | 307 | 115 |
| Dec 2019 | 404 | 276 | 131 |
| Jan 2020 | 342 | 222 | 112 |
| Feb 2020 | 398 | 280 | 166 |
We can come up with a few conclusions here. Before I get into the Supra comparison, I wanted to briefly discuss the 86 numbers to the BRZ. We see that the 86 pushes twice as many units as the BRZ in any given month. It does make sense though if we look at Toyota's market capitalization compared to Subaru's market capitalization here.
---
Now to get back to business, we can see that the Supra sales from the peak of 643 in Aug 2019 do not come close to the Toyota 86/Scion FR-S release peak of 2,684 sold. It does come close to the Subaru peak of 818 units sold. If we were to average the 86/BRZ peak sales month, we come up with around 1751 units compared to 643.
If we were to consider these metrics and baselines we came up, we could assess that the Toyota Supra did not meet the sales expectations and targets set out for the release. Now keep in mind, this is just our opinion and assessment of the release and in no way, shape or form representative of Toyota's assessment of the release.
With this baseline, I would make an assessment to say selling around 800-900 units for the Toyota Supra would have been considered a good release given the pricing point of the vehicles. With 643 units sold, they are 28% below the 900 target and 19% below the 800 target. I think to be generous -15% target would have been the absolute minimum target allowed which translates to roughly 739 vehicles sold.
---
Additional remarks we have heard from the car community is that the Toyota Supra's return was hyped up very high. It set out a very high bar on its release and I think the release fell flat compared to that very high bar. After all, this is the Toyota Supra. This is THE LEGENDARY TOYOTA SUPRA made famous by the late Paul Walker. This car has obtained legendary status among the car enthusiast community and to badge any vehicle a Toyota Supra must exceed all expectations bar none. I would say it is almost an impossible feat to live up to the status. They might have set themselves up for failure from the start.
Its release was marred with an air of controversy as it shared its platform with the BMW Z4 among a few of its complaints. I must give Toyota a lot of credit for taking on the challenge though. The easiest route would have been to sit stagnantly and just not release a new Supra or even so, release the new Toyota Supra under a brand new name. We must give much kudos and props to Toyota for refusing to back down and taking the harder road.
If you ask me, at first I did not like the look of the Toyota Supra. After some time though, I warmed up to its look and as I write this, I AM a fan of this new vehicle.
As humans, we are uncomfortable with change. Any hint of change is always marred with controversy. Change though brings forward progress and innovation is born from vehicles like the Supra. They brought a new vehicle design to the market that I now love. That is hard to do and takes guts. Therefore I am grateful. Whether you are a fan or not, you must appreciate the fact that Toyota took a stab at it and for that, have pushed the automotive industry forward.
---
Download Visuals
[email protected]
for customized data aggregates and visualizations.